The band released its debut album in the spring 2018. It immediately leapt to number 7 in the Swiss album charts. Wintershome have appeared several times on Swiss television (SRF Credit Suisse Sport Awards, RTS Tagesschau, RTS Mittagsnews) and performed gigs at various festivals, including Gurtenfestival, Open Air Gampel, Caribana Festival, Zermatt Unplugged and the Montreux Jazz Festival.
"

Wintershome were born of the snow. And through them, winter has become a season of warmth and light."
— Stéphane Berney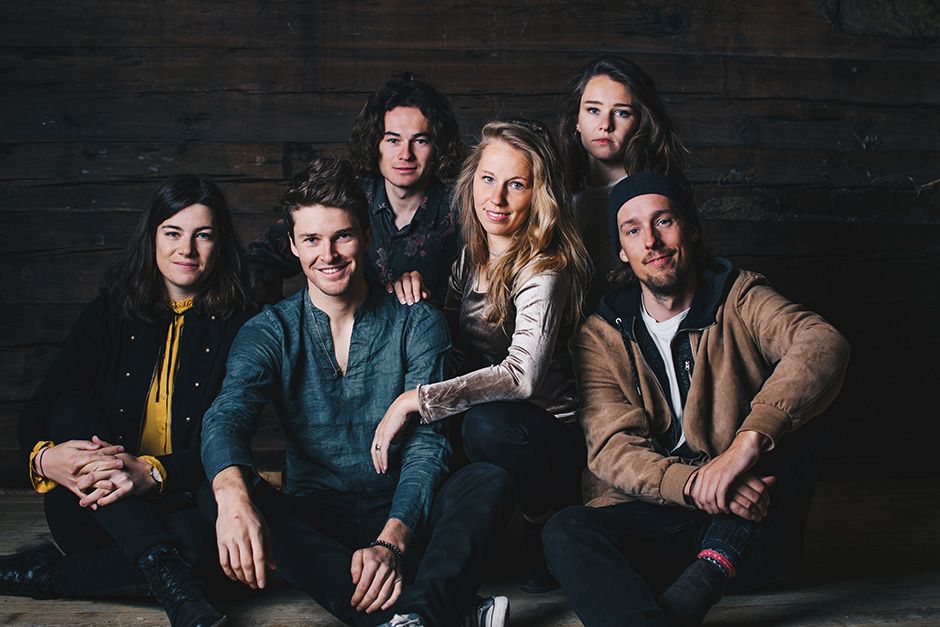 They are children of the snow. You could almost say they fell to earth on the backs of snowflakes. Wintershome belong as intimately to winter as a fisherman does to his trawler. The group inhabit the snowy season, like a boat bobbing about on the ocean. With them, you can feel the biting wind and look up at the watery sky stretching to the horizon. 
Winter. The season is inextricably bound up with Wintershome. It gave birth to them and now gives them refuge, inspiration and nourishment. Hear them talk about a glacier, the Gornergrat near Zermatt where they come from, and you'll understand. It features on the album cover, the obvious choice. The glacier represents the love and the mystery that they demand when combining lyrics with melody. A glacier is a moving, living thing; it has a history, it takes away and then gives again, a long time later, while we teeter on the edge of oblivion. In the presence of the glacier, Wintershome are inspired by Nature in her indomitable beauty. In its presence, the group live time as incompressible, their music an ode to the joys and sorrows of the human soul. 
Wintershome are a sister and two brothers, Maria, Pirmin and Elia, plus Romaine and her brother Joel and Rebecca, their friend since childhood. They are not a group, nor simply a bunch of youngsters aged between 23 and 27. Their relationship is much more subtle than that. There is something of the clan about them. They are a siblinghood, come down from the mountains to speak to us about Nature, to lift us out of the bleakness of the world with voices that shine like the sun's rays glinting off a mountain brook. They have known each other since their first halting steps on skis. Together, they have skied endless kilometres of pistes. Some of them have grown up in families of Swiss skiing stars, and others still ski competitively when they are not performing. 
Before, they were skiers who liked to make music. Now, they are musicians who like to ski. Now, they have answered the call, the urge they have to congregate in the little house they have chosen as their place to create, refine, re-tune and bat musical ideas around to see how they grow. This is their lair, their den, their burrow. This is Wintershome. And there is no poacher alive who can flush them out. Because when the impulse to write comes on them, the atmosphere turns to one of sublime reverence, like when on foggy days the Matterhorn suddenly shrugs off his misty mantle, a giant waking from his bed of clouds. 
Ever since they were children, an air of soft melody has hung about them. Music has always surrounded them, just as mountains, forests and snow have always been a part of their lives. Music itself is their visiting muse, coming and going with perpetual regularity like the winter snows. They are not conquistadors of Nature; they respect her and are fascinated by her, allowing her to come to them with her retinue of sights, sounds and smells. 
Because the family represents a sacred glade in the middle of the cluttered forest that is the world, Wintershome chose to be born on Christmas Day in 2015. This advent was their Christmas present to themselves. The group, who had been playing together since 2011, gave each other the gift of their identity by choosing a name. That year, Father Christmas did not come down the chimney because blazing in their hearth was a fire of uplifting and infectious joy, personified by their loved ones, who gave them little toy instruments. A cheeky yet affectionate nod; a reference to the child skiers they once were and the musician-skiers they have now become. A sleight of hand to remind them of where they come from. 
Wintershome is a house where everyone, from the cellar to the attic, contributes their part, drawn from the rude bounty of Nature. It is a workshop of artisans, a place where one person feels the weight of another's pebble to assess how well it will skim, where one person blows on another's dried leaf to see how lightly it flutters through the air, and where another person contemplates the branches brought from an earthly epic to judge the rhythm of their rattle. And they take all this and simmer it in the pot bubbling on the family hearth to create their songs, a blend of sadness, intensity, beauty and hope. And each time, the crowd – thronging the Matterhorn Plaza in central Zermatt to celebrate the 150th anniversary of the first ascent of the great mountain, or filling Zermatt Unplugged Kaufleuten in Zurich – go home with a little hoard of bright, airy melodies filling their heads like a dose of dewdrops gathered at dawn on a summer's day. 
Wintershome were born of the snow. And through them, winter has become a season of warmth and light.